Local Moving
We are located in Miami. Local moves and deliveries are done in a matter of just few hours by our professional and local Miami movers.

Long Distance Moving
We provide long distance service anywhere in continental US. We have offices in Miami, Hollywood, Fort Lauderdate, Sunny Isles and West Palm Beach

Storage Services
We offer private and secure storage facilities just off I95 in Miami. Your belongings will be carefully crated and sealed until you are ready for out movers to deliver your belongings anywhere in Miami, South Florida, or USA

Emergency Moving
We can provide Miami-Dade local moving services with one hour notice. Based upon availability. We understand that emergencies happen. Some time, movers that you schedule do not show up. Give us a call and we will try to get you taken care of by one of our moving crews.

Packing, Wrapping and Boxes
We offer full packing services as well as a range of packing materials including boxes, paper, tape, and bubble wrap. Many customers decide to pack themselves, and we happily coach you on how to do that for no extra charge. If you'd like our help packing, we can provide a very reasonable quote for you.

Moving Insurance
We are Local and Long Distance licensed movers in Miami. All moves are covered with minimum coverage of $0.60 per pound. By law we are obligated to reimburse you only 6$ per 10LBS broken glass vase, for ex. We warn and advice all of our customers to purchase FULL COVERAGE INSURANCE (please ask for details)

Free Written Estimates
If you are local in Miami and need movers, we can help. We come to your location 7 days a week, during the day or evening, whenever is easiest for you. Our written estimate will outline all the costs associated with your Miami Moving
Our Guarantee
We promise to take excellent care of your belongings. That means we cover floors, walls, and furniture as we move things in and out of our truck. We want you to be completely satisfied with your Miami moving experience. Please give us your feedback – good or bad
When somebody says Miami, what comes to your mind? We are sure most of us visualize the same: palm trees, the beach, sand, and the sun. If you investigate further, you see that Miami is much more. It offers all you need for a good life. Firstly, it is an economic and financial center. It gives lots of job opportunities and chances to earn substantial income to its citizens. Secondly, Miami is also a cultural center. There are numerous cultural events and institutions you can visit. And finally, if you like sunny weather, water, and the beach, this is the right place for you. So, to all of you who are planning or thinking about moving there, here is the information about moving services Miami and Pro Movers Miami as your best choice. There are a lot of moving companies out there, but not all of them meet certain criteria. And after all, you need just the best to handle all of your belongings.
Choose the best from moving services Miami
Moving is always associated with stress. Whether you move for the first time or you have done it before, the feeling is the same. The thought of all the things to be done before you finally move to your new location is enough to start panicking. If Miami is your choice, you have made a good decision. All you need to do now is find a reliable mover. A company that will help you with all the moving chores. With Pro Movers Miami, there is no need to worry. We offer you the best of moving services Miami.
Additional ways to help you make your move stress-free
So, as we mentioned moving is stressful. There are so many things to do and a lot of decisions to make. You are saying goodbye to all of your friends, and you need to relieve some of that stress. The best way to do it is by hiring professionals like Pro Movers Miami. They will handle all of the hard thins for you. And you can actually go for a walk around your old neighboorhood. Go out with your friends to your favorite place. And, before all that – give yourself time to prepare for the whole moving process.
Pro Movers Miami – The mover you need
When looking for a moving company to help you with the relocation, it is important to find a professional and trustworthy one. In fact, this is precisely what qualifies our company for the job.  What makes Pro Movers Miami different from other companies is the following:
We have been in business for a long time. Our satisfied customers prove our quality. If you want to make sure that you are dealing with professionals, check out Miami Movers on YELP.
Since finances are an important factor when moving, we offer you an accurate estimate of your costs over the phone. You just need to call us. And provide us with the details about your move.
Each relocation is different. This explains why we approach all our customers individually. We plan relocations to satisfy all your needs. All you need to do is to tell us all of your requests.
Finally, we don't waste your time. We perform relocations quickly, without unnecessary delays. We respect our customers and we respect your time. Our goal is to make our customers happy!
We hope these qualities listed were enough for you to understand why our services are among the best moving services Miami. As we mentioned, we are for a long time in this business and we know all the key elements to a successful move. We know what you should avoid, what you should do and we can give you a lot of ideas on how to prepare yourself for the moving process.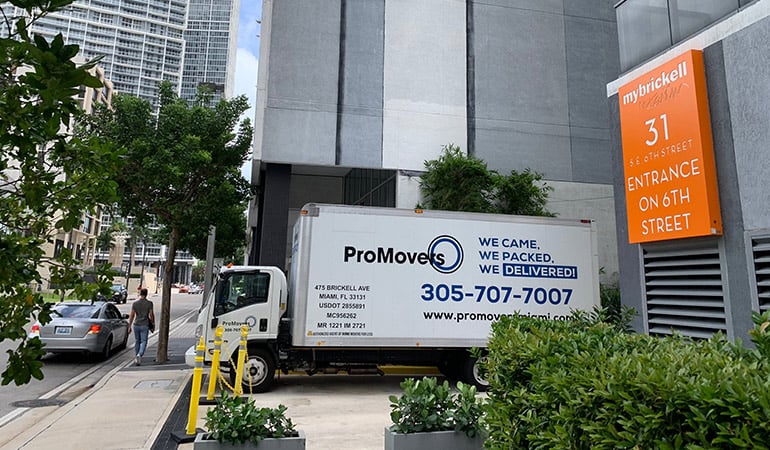 A wide range of services is what makes a good moving company
Pro Movers Miami, as a well established moving company, offer various services to its customers. For almost every type of moving situation. The trained and experienced personnel makes sure these services are of the highest quality. You will not have to worry about damaged or lost items. Our team knows how to handle even the most difficult relocation.
Professional packing services
Packing services do not only refer to the mere act of packing. We provide packing supplies for you. You can choose the ones that will protect your things best, or you can leave it to our professionals to make decisions instead. We guarantee the best protection of your belongings during the move. And the time you will save is priceless. What's more, the packing supplies are included in the price. This means that they stay with you after the move, so you can use them again when the time comes.
FAQ – "How can I be sure that everything will be packed safely?"
Well, our packers and movers all go through an extensive training. We take our business very seriously and we want you to be satisfied. That is why we hire only the best persons to handle your move. We use very quality packing materials and we know our way around the packing process. We know which item needs extra padding, and which one can be combined with other items. There are some tips and tricks that we know and we hold up our sleeve, so every request you might have – we can do it! That is why we can provide you with one of the best moving services Miami.
Local moving services Miami
Local moving service is the one you need when you want your belongings moved within the same city. It should be fast, reliable and affordable. Pro Movers Miami can perform local moving in a single day. All of your belongings will be carefully packed, shipped and unloaded at your new home. This is what distinguishes our company from others who offer moving services in Miami. We have the expertise and experience to do it all in a day and do it correctly. Additionally, the prices of all our services are affordable. To sum up, you get a high-quality service for a favorable price.
FAQ – "Do I actually need movers for such a short distance?"
Well, this is something that a lot of people are wondering. And we have an answer to it. When you take all expenses into consideration – moving supplies, packing, all the fuel and going back and forth – it is much easier for you to hire professionals! This way, moving locally will not be hard and you will save a lot of time and relieve you of all the stress that moving process brings. You will save your budget as well. So, don't hesitate and hire local movers and speed up your moving process!
Long distance moving services
Long distance moving is much more stressful than local since you are moving to a faraway place. But we are well-prepared for it too. Our experienced movers will know how to prepare your things for a long journey and how to move them to a new location safely. What's best, this service is available at a reasonable price you can surely afford. And since you are moving long-distance you need to think about your budget before all.
FAQ – "How can I prepare for a long-distance move?"
Well, there is no easy answer to this. The good start is to look through our moving services Miami and ask us as many questions as possible. Some general advice is to plan everything ahead and on time. Time is an essential thing when it comes to moving long-distance and you need the advantage. Think about your utilities, you need to cancel them and forward your mail. Also, you can check can you just maybe transfer to utilities to your new place. The key to a successful move is to ask enough questions so you can have enough information.
Emergency local moves
Pro Movers Miami understand that accidents happen and that sometimes they can ruin the whole process of relocation. We offer you the emergency local moving services which can be organized within an hour, based on the availability of course. If something inconvenient comes up, call us. We will be honored to help you overcome the difficulties.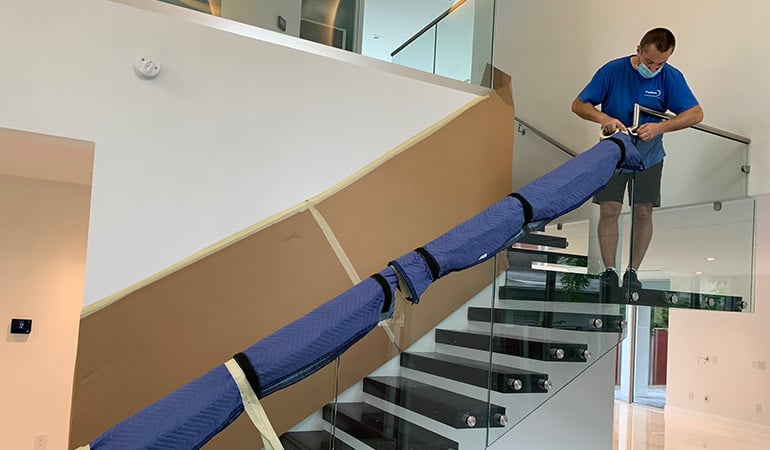 FAQ "Will it be too expensive?"
Well, this answer depends on your type of move. Are you moving locally or a long-distance. Our services are very affordable and we always do our best to assist our customers and help them to overcome any difficulties they might have. Depending on the number of your belongings we are moving – we are going to give you a free estimate as well as free boxes. So, don't be afraid, call us and we will give you our free estimate!
Storage facilities
Storage facilities are very important when you have to move and the place at your new location is not ready for you to move in. In these circumstances, we offer you our storage facilities of the highest quality.  They are clean and secure. We think about the safety of your belongings, so we have equipped our storage facilities with 24-hour surveillance, CCTV and alarm system. In addition to this, all of our storage facilities are climate-controlled. This means that moisture or weather conditions cannot harm any of your things. When the need for our service stops, you get your things undamaged.
FAQ – "Are my belongings really safe?"
Well, when it comes to our storage facilities we can assure you that your belongings are safe with us! We have a great surveillance system. And you can come and visit your storage unit whenever you need something from it. So, don't worry about safety – as we mentioned we value our customers. And we put the security of your belongings in the first place! So, yes, our storage units are completely safe!
Moving insurance
Insurance is an inevitable factor of doing the business with our company. We care about your safety and the safety of your belongings. The minimum coverage at our company is $0.60 per pound, but we always advise our customers to consider full coverage insurance. Just call us and our qualified employees will provide you with all the necessary information.
Providing free written estimates for our customers
We have already informed you that you can get all the necessary information just by making one phone call to our company. Furthermore, we offer you free written estimates of all the costs charged upon you due to the relocation. Then, you can decide whether to hire our company, but we are sure our high quality at an affordable price is unique in moving services Miami.
Pro Movers Miami – the right choice
Help yourself in the relocation process and hire one of the best companies which provide moving services Miami. Pro Movers Miami will help you move at ease, without panic or unnecessary stress. The right choice is the solution. With our company, your relocation will be timely, efficient and safe. What is even better is that you don't have to worry about high prices. We offer you our services at a reasonable and affordable price. All you need to do is call our company and relax. We will take care of all the rest.
FAQ – "How do I know that I made the right decision?
Well, we don't have an answer to this. It is something that you need to decide by yourself. You need to take into consideration our long history, our good reviews and ability, and willingness to help you with any request. We are professionals and we will always do our best to move you with ease as quickly as possible. Our humble opinion is that you will not regret if you hire us!